Loretta


'

Full Name

Loretta

First Appearance

Last Appearance

Status

Deceased

Cause of Death

Devoured

Portrayed by

Connie Lynn Hadden
Loretta is a character and villain in Piranha 2: The Spawning. She was a friend of Jai.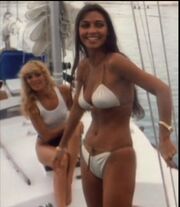 Loretta and Jai were out sailing from island to island, they finally stop at one and Jai tries to steal some food. The two are seen once again, laughing at Mal and later seen again on their boat. They hear a noise, it turns out to be the piranha's and one flies out to attack Loretta, Jai is also attacked.
Appearances
Edit
The actress who portrayed hers only role.
Loretta seemed to feel bad for their actions towards Mal.