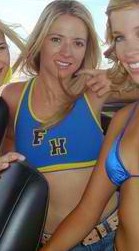 The Cheerleader Driver is a character in Piranha 3D. She is portrayed by Heather Arthur.
In a deleted scene, she drives to spring break with her fellow cheerleader friends. When Sam rides by on his motorcycle, one of them begins to flirt with him and then flashes him. The trio later show up various more times at spring break.
When the Piranhas attack, the driver tries to help panicking spring breakers to safety. However, the floating stage begins collapsing and a wire snaps and cuts her and her friend in half.
Ad blocker interference detected!
Wikia is a free-to-use site that makes money from advertising. We have a modified experience for viewers using ad blockers

Wikia is not accessible if you've made further modifications. Remove the custom ad blocker rule(s) and the page will load as expected.