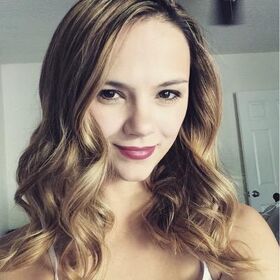 Ashley Rogers, formerly known as Ashlynn Brooke, portrays the role of Cheerleader in Piranha 3D.
Biography
Edit
Ashley was born in Choctaw, Oklahoma. She was a cheerleader for nine years, and graduated from high school in May 2003. Prior to becoming an adult film actress in 2006, she worked at a used car dealership near Oklahoma City for over three years.
Ashley's first foray into adult entertainment was a photo shoot for an Oklahoma-based magazine. She soon after worked briefly as a stripper.
In 2010, Ashley retired as an adult film actress after giving birth to her child. She posted on her Twitter profile and blog, introducing herself as "Ashley. Formerly known as Ashlynn Brooke" and stating that she had retired from the business. On her pregnancy, Ashley stated that she "would never have a child and continue" in the industry but that she was already "done before finding out about" it. She stated that after the birth of her child, "nothing on earth could've made me happier at that very moment. It was like God just reached down and literally removed me from 'that world' and put me back into the 'real' one. I knew that from that point on my life would be peaceful, happy, and full of love again!"
Ashley gave birth to a second child with her husband on September 10, 2014.
Ashley is currently a YouTuber/Vlogger, as a well as a published author with her book "Taking Life by the Balls".[1]
Filmography
Edit
For her appearance in Piranha 3D, she is credited under her former stage name Ashlynn Brooke.
References
Edit